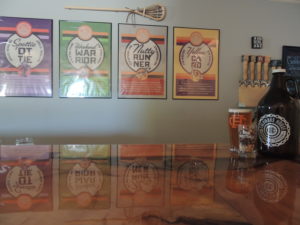 We've offered these beers exclusively in the taproom in the past! Stay tuned because we'll bring all of them back around again!
Hubble's Dubbel – Belgian Dubbel
Hubble's Dubbel is named after one of our favorite pups. The dubbel is a rich, strong, dark-colored ale that was historically made by Belgian monks. Expect a spicy, dark fruit aroma, and a complex flavor profile: raisin, sugary sweetness, mild hoppy flavor, and a warm, slightly alcoholic finish. Big enough to be enjoyed like a fine wine, but surprisingly drinkable!
Highside Hoppy Wheat
This unfiltered hoppy wheat is another drinkable yet fully flavored beer. Centenniel and Mt. Hood hops are used for boil kettle additions and Citra hops are used for dry hopping. These hops provide a lemony citrus aroma and hop flavor that pairs nicely with the white wheat that gives this beer its cloudy appearance.
B.L.I.P.A on the Radar – Black IPA 
If you're feeling adventurous, make sure to put this beer on your radar! A 90 minute boil gives this beer a rich, full body. Debittered black malt makes the beer black while minimizing the presence of any harsh or bitter malt flavors. Aggressively dry-hopped with Citra hops, the nose is strongly fruity and delightful. There is a familiar mix of hop flavor without too much hop bitterness. Take your time and really appreciate this one!
Twinter Ale – Chai Spiced Cream Ale
This unique winter offering is a traditional blonde cream ale brewed with a custom blend of chai spices! The beer smells and tastes like chai up front, and finishes with a smooth and restrained malty taste. The Twinter Ale is refreshing, but undeniably winter-y, which makes it a unique winter seasonal. We didn't make much, so try it while it lasts!
Kabamba Coffee Stout
This coffee stout begins with an enticing aroma and rush of coffee provided by organic Ethiopian grown and delicately roasted coffee beans form local roaster Scott "Scuzzy" Smith. As the coffee flavor fades away the roasty chocolate and robust flavors of a classic stout are revealed. This beer finishes smooth leaving you craving another sip of the pitch black beer.
Hellcream's Delight – Hefeweizen
Here's to Jason's favorite MMORPG! Hellscream's Delight is a refreshing summer beer- light in body, effervescent, and sessionable. The color is an opaque copper and the aroma is slight clove and banana. Expect strong carbonation and moderate acidity up front and a lingering combo of biscuit, yeast, banana, and clove. Made entirely with German malt, German hops, German yeast, and Munich's water profile. Prost!
Stellar SMASH
SMASH stands for Single Malt and Single Hop and our out of this world ale was made using only Vienna malt and the Australian hop Ella (aka Stella). The generous hopping leads to bitterness similar to an American pale ale and has a nice malty finish. Ella hops are surprisingly fruity (think melon or guava) making this beer perfect for warming weather!
Fuggle Rock – E.S.B. 
ESB stands for Extra Special Bitter. Our version, brewed in collaboration with good friend and local home brewer Barry Sawyer, is a great example of this classic English Pale Ale. Fuggle Rock starts with a slight caramel like sweetness, followed by a pleasant bitterness from the UK Fuggle hops, and finishes with a strong malty/biscuity character. If you like malty and hoppy then this is the perfect beer for you!
Okami – Green Tea IPA
The aroma is a mix of fruity, citrusy, and grassy (probably because Okami was dry-hopped with Citra hops and green tea). Citra hops up front give way to a delicate green tea flavor mixed with fruity Ella hops. We used Match powder- a type of green tea used in Japanese tea ceremonies- to craft this beer. Carey, the creative genius and muscle behind it all, actually learned to perform the ancient art of Japanese tea serving while living in Japan, which inspired her to create this beer! The name is a reference to Zoogma: another favorite band of ours!
Flagslapped Cream Ale
Ever had the patriotic feeling where you just want to wrap yourself up in an American flag?! We get that feeling sometimes, but other times it's forced upon us. Recently, in the blazing heat of Fort Worth a patriotic runner inadvertently wrapped Carey up in the billowing glory of an American flag, hence the name! Cream ales originated in the United States, are brewed with flaked corn, and are known for their light and refreshing character. So raise a toast to America this July and enjoy your Flagslapped Cream Ale!
Flagslapped Coffee Cream Ale- 5.9% abv 
You've tried our Chai Spiced Cream Ale last winter and our regular cream ale, now try our Coffee Cream Ale! Our good friend and local coffee roaster Scott Smith, roasted up a special light coffee especially for this beer! Coffee notes up front give way to the smooth refreshing light cream ale finish. Perfect for summer
Golden Gate California Common- 5.1% abv:
A California Common is a traditional American style beer first brewed in California. What makes this beer unique is the lager yeast is fermented at a higher "ale temperature" giving the beer crisp lager character. What makes our version unique is use of four specialty malts to give it a nice malty backbone and slight biscuit flavor and a healthy hop presences from two American hops, Cluster and the aptly named, Liberty!
Willy Doctor Red IPA- 5.5% abv
The first beer in our Roommate Series of rotating taps (inspired by the original roommates of the OG Columbus House). The inspiration for the Willy Doctor comes from Willy's reaction to video games. Losing would make him red in the face and he would be very bitter about it. $1 from each pint sold will be donated to the Chase Swaffar Memorial Scholarship Fund, which is a very special cause to us. This IPA is dry-hopped with Simcoe hops. It has a full body and moderate malt presence. Medium bitterness.
Co-lager-ation Oktoberfest- 5.5% abv:
The aptly named co-lager-ation is a collaboration brew between us and the fine folks at Fort Smith Brewing! This traditional German fall beer was brewed with all German malts, all German hops, and an Oktoberfest lager yeast. You can expect a bready malty aroma, and a smooth lager-y flavor upfront that gives way to strong malt and caramel flavors.
9 Barleywine – 10.1% abv:
Inspired by and named after The Nines Fayetteville signature drink, this barleywine was brewed with pale malts, a touch of honey malt, and El Dorado hops! In addition, fresh strawberries were added post fermentation to give a subtle strawberry nose and slight sweetness. Effervescent, sweet, and smooth makes this barleywine easily drinkable even at 10.1%!
Piles of Miles- New England IPA – 5.4% abv
We brewed this beer in honor of the 40th annual Joe Martin Stage Race (a classic Fayetteville event)! The late Joe Martin was keen on what was cool before it was cool, which inspired us to bring the New England IPA to NWA! This hazy or "juicy" IPA should be opaque, with an intense fruity and citrusy aroma. The flavor should be only mildly bitter with a unique juicy hop flavor.
2 Weekend 2 Warrior Double IPA – 8.4% abv
In honor of our 2 year anniversary, we brewed a double version of our Weekend Warrior IPA! We retained the same malts and hops but bumped everything up to make this IPA intense and flavorful! The aroma is earthy with slight citrus, the mouthfeel is full bodied with a growing bitterness, and the finish is sweet, malty, and alcoholic. Cheers and thanks for 2 years!!
Nickroni Italian-style Lager – 4.7% abv
This lager is the 2nd beer in our "Roommate Series" of beers! It is named in honor of a roommate who studied abroad in Italy and never wanted to come back! We used a classic pilsner yeast strain to give it crisp and clean taste (but with some maltiness) and used a generous portion of flaked maize to dry it up. 50 cents from each pint sold will be donated to the Chase Swaffar Memorial Scholarship Fund.
Backdraft Red Ale – 5.4% abv
Our latest fall seasonal is a red ale that we brewed especially for the Hero Half Marathon! A touch of rye malt creates a distinct finish to this strikingly red and malty beer. $1 from each pint sold will be donated to the Spark Foundation to support the Hero Half Marathon.
Toi Moi et la Tripel – Belgian Tripel – 10.3% abv
(twa mwa eh la tripel): This beer is an authentic Belgian-Style Tripel brewed with Belgian candi sugar, Belgian strong ale yeast, and a healthy helping of Pilsner malt. It is named in honor of a beach-side café that Jason used to frequent while living and working (and consuming many Belgian strong ales) in Oostende, Belgium.
Trouble Hubble – Barrel-Aged Dubbel- 8.3% abv
This is Hubble's Dubbel aged in a Rye Whiskey Barrel!! After receiving a tip from our good friend Phillip, we drove down to Little Rock and picked up a few freshly dumped rye whiskey barrels from Rock Town Distillery (and a few bottles of rye)! The barrels provide an oaky alcoholic aroma, and a sharp finish with hints of vanilla. We have a very limited amount so hurry in to try it!
Old Fashioned Hubble- Dubbel Aged on Cherries and Orange Peel in Whiskey Barrel-8.5% abv
The most exciting iteration of our Belgian Dubbel yet! This beer was aged in a fresh rye whiskey barrel from Rocktown Distillery for over 2 months, with generous portions of Luxardo Maraschino Cherry and orange peel added. This beer is VERY complex and limited in quantity.